Refill Toner (Instructions) Canon 719H / CRG719H
Refill instructions for Canon 719: Canon i-SENSYS LBP-250, LBP-251 dw, LBP-252 dw, LBP-253 dw, LBP-6300 dn, LBP-6300, LBP-6310 dn, LBP-6600, LBP-6650 dn , LBP-6670 dn, LBP-6680 x, MF 410, MF 410, 411 dwS, MF 414 dw, MF 416 dw, MF 418 x, MF-419 dw, MF 419 x, MF 5800 Series, MF 5840 dn, MF 5880 dn, MF 5900 Series, MF 5940
dn, MF 5980 dw, MF 6100 Series, MF 6140 dn, MF 6160 dw, MF 6180 dw:

The Canon printer works with the HP Canon 719 and HP Canon 719H cartridges. Insert the Canon toner cartridge (Figure 1) to himself. Use a soldering iron to melt an approx. 8mm filling hole in the Canon 719 and HP Canon 719H cartridge at the red marked point. The filling hole should never be drilled. When drilling, chips are produced which damage the cartridge.
Before you can refill the new toner, you must thoroughly remove the remaining old toner in the cartridge. The old toner can only mix poorly with the new toner due to its changed physical properties due to friction, movement and temperature fluctuations. As a consequence, this will mean poor printouts. Fill the refill toner into the drilled toner filling hole using a funnel. Seal the filling hole with a piece of fabric tape.
The Canon cartridge is now full. Then the chip in the cartridge has to be changed. To do this, cut off the two front plastic corners of the chip holder with a craft knife and carefully pull the chip out (Figure 2 and Figure 3). The new chip is inserted into the cartridge in the same position as the old one and, if necessary, fixed with a small piece of double-sided adhesive tape.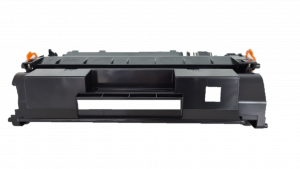 By changing the chip, the printer will now recognize your toner cartridge as full. Please also always refill toner powder so that your toner cartridge receives the full page capacity. If you do not do this, the printer may still recognize the cartridge as empty due to a lack of toner powder. In this case the toner chip loses its function. The toner chip can be used once. The cartridge can now be reinserted into the printer.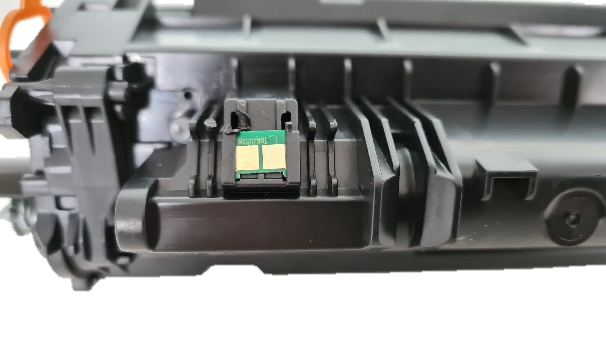 Safety note for handling refill toner:
Refill toner and toner powder can be harmful to health if improperly handled. We expressly recommend the use of respiratory protection equipment or suction chambers when filling toner cartridges. In addition, toner powder and refill toner can be extremely flammable with an appropriate oxygen mixture. Also, be careful not to touch the photoconductor drum or expose it to direct sunlight. This can lead to incorrect printouts.
Eurotone assumes no responsibility for the success or failure of the procedure described.