Refill Toner (Instructions) Canon 728 / CRG728
Printer models: For Canon L-150, L-170, L-410, MF-4410, MF-4430, MF-4450, MF-4550, MF-4550-d, MF-4570, MF-4570-dn, MF- 4570-dw, MF-4580, MF-4580-dn, MF-4730, MF-4750, MF-4770, MF-4770-n, MF-4780, MF-4780-w, MF-4820, MF-4820- w, MF-4870, MF-4870-dn, MF-4880, MF-4880-dw, MF-4890, MF-4890-dw
Take the toner cartridge of the Canon MF-4820, MF-4820-w out of your printer and place it on the table in front of you (Figure 1). Burn with a soldering iron on the in Figure 2 a filling opening. Neatly deburr the filling opening so that the fabric adhesive tape sticks firmly to it after filling. Make sure that no plastic shavings fall into the toner chamber, as these could damage the printing mechanism. Shake out the remaining toner, as the different chemical and physical properties can cause the old and new toner powder to clump together.
Filling the Canon 728 / CRG728 toner cartridge: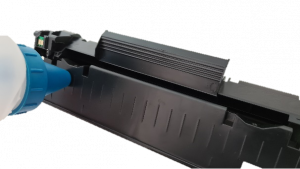 Take the toner bottle and screw a funnel onto it. Shake the toner bottle gently so that the toner powder has better flow properties. Put the toner in the cartridge (Figure 3).
When you have filled the cartridge, you have to close the filler opening again. To do this, cut a piece of fabric adhesive tape and stick it on the filling opening (Figure 4).
Proceed as follows to replace the toner chip:
Since the Canon MF-4820, MF-4820-w cartridge has a toner chip that monitors the toner level, you must replace it after each filling. Take the new toner chip and put it in the same place as the original chip (Figure 5). If necessary, fix the replacement chip with a drop of hot glue.
By changing the chip, the printer will now recognize your toner cartridge as full. Please always refill toner powder so that your toner cartridge has the full capacity of the page. If you do not do this, the printer may still recognize the cartridge as empty due to a lack of toner powder. In this case the toner chip loses its function. The toner chip can be used once.
After filling it once or twice, it is advisable to empty the waste toner box, otherwise a proper print image cannot be guaranteed.
Safety note for handling refill toner:
Refill toner and toner powder can be harmful to health if improperly handled. We expressly recommend the use of respiratory protection equipment or suction chambers when filling toner cartridges. In addition, toner powder and refill toner can be extremely flammable with an appropriate oxygen mixture. Also, be careful not to touch the photoconductor drum or expose it to direct sunlight. This can lead to incorrect printouts.
Eurotone assumes no responsibility for the success or failure of the procedure described.